ASSUME
---
About ASSUME
Assume is a recursive acronym for
Assume's a Seminar Series for Univalent Mathematics Enthusiasts.
ASSUME is an informal research level seminar on univalent mathematics between the universities of Birmingham and Nottingham.
The seminar provides a platform for discussing recent work where we try to make progress on open problems. It also offers opportunities for PhD students to get acquainted with the current interests of members of the community.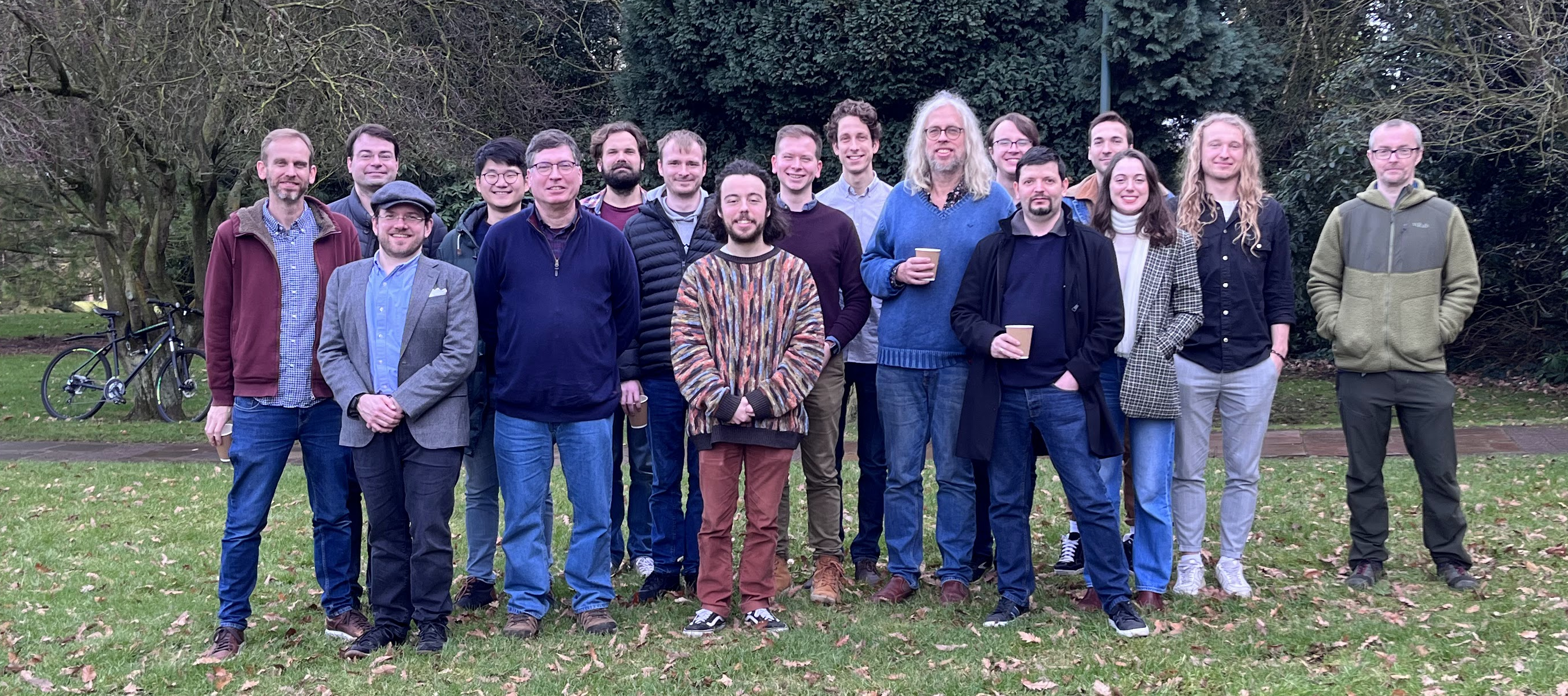 Organisers:
Upcoming meeting
TBA
Past meetings
22 March 2023, Birmingham
Talks:

Martín Escardó (University of Birmingham) on Ordinals in univalent type theory
Nicolai Kraus (University of Nottingham) on Type-valued diagrams


Participants: Thorsten Altenkirch, Ulrik Buchholtz, Josh Chen, Stefania Damato, Tom de Jong, Martín Escardó, Eric Finster, Ohad Kammar, Nicolai Kraus, Stiéphen Pradal, Uday Reddy, Johannes Schipp von Branitz, Artem Shinkarov, Andrew Sneap, Paul Taylor, Ayberk Tosun.
16 February 2023, Nottingham
Talks:
Participants: Thorsten Altenkirch, Ulrik Buchholtz, Josh Chen, Bruno da Rocha Paiva, Stefania Damato, Tom de Jong, Martín Escardó, Eric Finster, Nicolai Kraus, Dan Marsden, Jacob Neumann, Andor Pénzes, Stiéphen Pradal, Johannes Schipp von Branitz, Artem Shinkarov, Andrew Sneap, Ayberk Tosun.
Group photo
5 December 2022, Birmingham
Talks:
Participants: Thorsten Altenkirch, Todd Waugh Ambridge, Ulrik Buchholtz, Josh Chen, Bruno da Rocha Paiva, Stefania Damato, Tom de Jong, Martín Escardó, Eric Finster, Nicolai Kraus, Stiéphen Pradal, Johannes Schipp von Branitz, Andrew Sneap, Ayberk Tosun, Iris van der Giessen.
Group photo